Tuesday 27 September 2011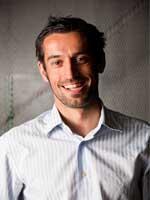 A study into cycling performance is bearing fruit, with participants increasing their power production by up to 5 per cent.
One participant in the study has just won his first world championship at the recent UCI Junior Track World Championships in Russia.
Research led by Dr David Rouffet from Victoria University's Institute of Sport Exercise and Active Living (ISEAL) is looking at variations in pedal force that cyclists produce throughout the pedalling cycle, at different rates of revolution and different bike set-ups.
Measurements are taken with a small piece of hardware, developed with Victoria University engineers Ian Fairweather and Robert Stokes, and mounted on the bike.
It doesn't require any modifications to the bike or affect the cyclist's performance, so it can be brought outside the lab and into training and competition environments.
Dr Rouffet said applying this data to the training of three elite junior cyclists was achieving impressive results.
"This new approach can provide up to 5 per cent gain in terms of power production for sprint track cyclists," Dr Rouffet said. "That represents a significant gain for elite performance."
The work is in conjunction with Victorian Institute of Sport cycling coaches, Hilton Clarke and Carl Brewer, and sport scientist Dr Dan Dwyer.
Dr Rouffet said all three cyclists had performed impressively at the latest world championships in Russia.
Cyclist Jaron Gardiner upstaged his more fancied rivals to secure his maiden world championship in the men's 1 km time trial. Coach Hilton Clarke said the new scientific approach had significantly contributed to his championship performance.
The other participants also performed well: Adele Sylvester finished 2nd in the women's team sprint and Luke Parker came 4th in both the men's sprint qualifying (200m flying start) and the men's team sprint.