Wednesday 18 December 2013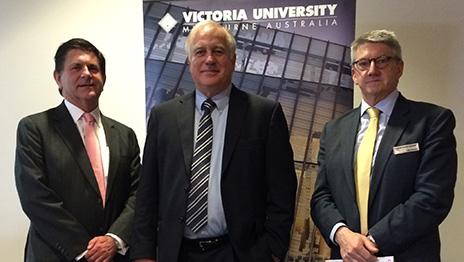 Victoria University (VU) was delighted to be yet again a key partner and venue host for the Comview Conference held on the 25 and 26 November in 2013. The annual conference, which attracts approximately 600 secondary teachers, is organised by the Victorian Commercial Teachers Association (VCTA) and sponsored by Victoria University.
The College of Business was proud to introduce Alan Kohler, one of Australia's most experienced financial journalists, who presented on 'Trends in various economic indices' to a full house of highly engaged secondary business teachers.
A key highlight of the day was the announcement of Alan Kohler taking on a new role as adjunct professor in Victoria University's College of Business. Professor Clark, Dean of the College of Business at Victoria University, welcomed the appointment of Alan Kohler and explained that "this new position of adjunct professor will bring to the College of Business a fresh and immediate approach – an approach that Alan Kohler is famous for. He makes what can seem incredibly complicated appear very clear and simple with a few well-chosen words – and maybe a graph."
Central to his role at VU will be promoting the value of financial education as well as contributing to curriculum development in the College. VU's students will have the opportunity to learn and benefit from Alan's wealth of experience.