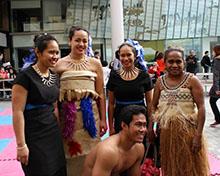 Revived in 2012, the Victoria University Pacific Students Association (VUPSA) assists students with their academic journey while studying at VU.
VUPSA provide a social network for communication and information sharing on issues relating to the Pacific Island States, as well as information and moral support to new and old students and their families.
The association fosters student welfare and wellbeing by linking them to appropriate support services within VU and the wider community, enhancing their ability to achieve maximum potential and results, both academically and socially.
The group was originally established in 2001 by past students as 'Pasifika Solidarity', to create a platform for students to share ideas, assist one another and network with each other, as well as connect through events. From 2005, it assumed a low profile until actions to revive it began in 2012 and it became affiliated to the VIctoria University Student Union in 2013.
The original aim still remains but with additional objectives catering to other aspects of student life, including academic support, and promoting and linking the association to other organisations nationally and regionally.
Educational support
VUPSA organises a range of academic events throughout the year to provide support to all the Pacific Island students studying at VU, including forums and workshops, study groups and one-to-one study help program.
Social and leisure needs
VUPSA understands and caters to the needs for postgraduate students to have a place where anyone can come to meet, talk and share experiences, find what they have in common, alleviate loneliness and create an ever growing community.
VUPSA organise regular sportive and other recreational events open to any Pacific Island students at VU. Events are subject to changes, visit the association's Facebook page for the latest information.
Events include:
welcome meeting and BBQ, events seminars and workshops
social dinner, BBQ and end of semester functions
monthly peer support groups
sporting events.
2014 Executive Committee
VUPSA's executive committee for 2014 is:
Mema Motusaga (President)
George Pitakoe (Vice-President)
Taase Tavita (Secretary)
Kirisimasi Pitavao (Treasurer)
Makeleta Taunisila (Mentor)
Links for students