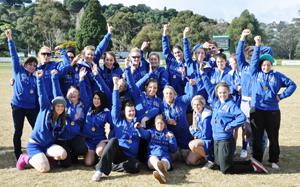 Victoria University concluded the 2011 Southern University Games (SUG) held 4-7 July in Geelong represented by 204 students and playing off in 8 medal games, winning 7 of those 8.
Five (5) Championship Pennants (Gold) were won in the team sports of Australian Rules Football Women, Basketball Men, Cheerleading Open, Soccer Women and Volleyball Women.
Australian University Sport and Victoria University Male Athlete of the Year Liam Adams won Gold in the Cross Country Individual Men's event and
Three (3) Bronze were won by Australian Rules Men, Basketball Women and Hockey Women.
It was a spirited and emotional finish to the competition with athletes and officials both aware with the increased competition at this year's games - athlete numbers are up over 40% from 2010 - that the final overall results were going to be a tussle down to the line.
VU's AFL women demonstrated again, despite the rigorous climatic conditions, that they are the dominant University Team in this sport barely conceding a point in the competition to win in 77 to 0 over RMIT and cementing their position as the favourite for the Australian University Games in September.
Basketball men maintained their composure in a match delayed by IT (scoreboard failure), only to pick up pace as the game was moved to an adjacent court. The team all taking turns to hit baskets from all angles in the last quarter to close out the championship undefeated taking the pennant from La Trobe 85 to 68 in a thrilling final SUG game.
Volleyball women completed the hat-trick of undefeated pennant wins for VU when they closed out Adelaide University's campaign to take the championship 3 to 0. A strong performance from the VU women who looked to be under an injury cloud earlier in the week.
VU's 4th pennant was achieved earlier in the week in cheerleading and its 5th in women's Football (soccer) who also had an undefeated record at the Games. Unfortunately, due to limited competition VU played each day for 4 days against the one opponent, Deakin. To their credit the team maintained their focus through the week, winning each game and never dropping a goal. Several of the team taking the opportunity of lighter competition to also compete in the ten pin bowling event. The women's football team is a high class outfit with a number of state, premier team or international representatives. They will be strong contenders for the AUG pennant later this year.
AFL men, Basketball women and Hockey women also all had wins each taking the Bronze for their respective competitions. This left the final standing, and a tussle it was, with a 5 way tie for the overall SUG champions trophy. LaTrobe, Monash, RMIT, Deakin and VU all on equal awarded pennants. After a count back to minor medals the final top five results were:
LaTrobe
RMIT
Deakin
VU
Monash
SUG Medal Summary
Cross Country Men: Liam Adams - Gold
Australian Rules Football (W): VU 77 d RMIT 0 - Gold
Basketball (M): VU 85 d LTU 68 - Gold
Soccer (W): VU 3 d DEAK 0 - Gold
Volleyball (W): VU 3 d AU 0 - Gold
Australian Rules Football (M): VU 64 d SUT 33 - Bronze
Basketball (W): VU 81 d MELB 49 - Bronze
Hockey (W): 2 d UBAL 0 - Bronze
Touch (Mx) VU 3 LTU 4 - 4th
SUG 2011 was a great campaign for VU demonstrating that with each new Games they grow in strength. Preparations are already in place for the 2011 Australian University Games, on the Gold Coast in the mid semester break 25 -30 September.
Interested students should contact the VU Uni Games office on [email protected] or via the VU Sport facebook page and take note of the trial dates and team contacts.