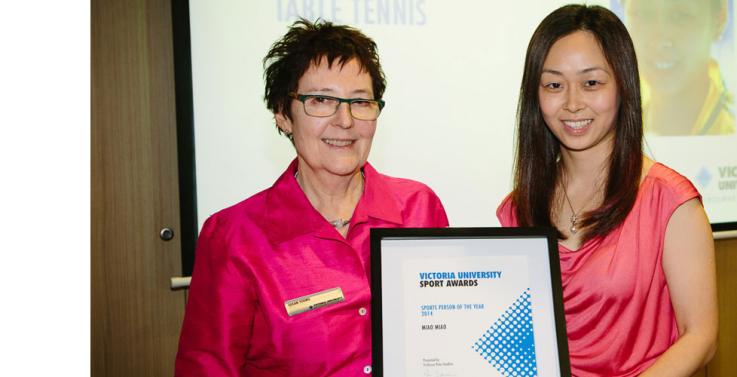 Victoria University has named Australia's most decorated table-tennis player four-time Olympian and four-time Commonwealth Games competitor Miao Miao as its 2014 female athlete of the year.
Elite high-performance scholarship recipient, World University competitor, and World Cup rower Jackson Harrison was named male athlete of the year.
World-champion water skier and VU's 2013 and 2012 female athlete of the year Jacinta Carroll was presented with the University's inaugural Academic and Sporting Excellence Award.
The Victoria University Sport Awards recognise the University's best performing athletes in Australian University Games championships, or students competing at the top of their sport on the world stage.
Many students recognised are supported by the University's elite athlete support program, including those receiving sport scholarships or travel grants to assist them at major international competitions such as the Commonwealth Games, world championships or World University Games championships.
VU also awarded 'Full Blue' recognition to:
Commonwealth Games and World University Games triple-jumper Ellen Pettitt
Commonwealth Game badminton player Gronya Somerville
Commonwealth Games table tennis player David Powell
Australian snow-boarder Lauren Staveley
Australian kayaker Brea Roadley
The Victoria University Volleyball Club was named club of the year, and its taekwondo team received team of the year.
Some VU student athletes still have upcoming major competitions this year including Clare Cherry, selected to represent Australia at the 2014 World University Weight lifting Championships in Thailand in December.
The 2014 VU Sport Awards also saw lacrosse legend and VU alumnus John Butkiewicz inducted into its VU Sport Hall of Fame.