Wednesday 3 December 2014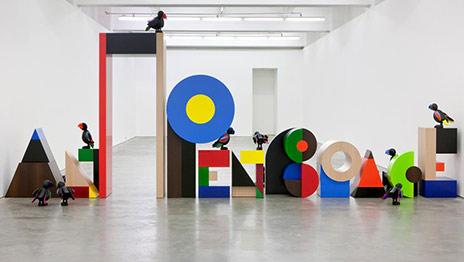 Melbourne-based artist Emily Floyd sourced display materials from the special collections of Victoria University (VU) Library for parts of her retrospective exhibition Emily Floyd: The Dawn which is now showing at the National Gallery of Victoria (NGV Australia).
The Ruth & Maurie Crow collection, which consists of approximately 2000 books and 700 pamphlets held in the Special Collections Room of Footscray Park Campus Library, provides an important basis for understanding political and social activism in Melbourne. Ruth Crow A.M. (1916 - 1999) worked with women and children in Brunswick during WWI, and Maurie Crow (1915 - 1988) worked with the Clerk's Union. They are also known for their pioneering work in the 1960s in urban planning, building neighbourhood communities and creating a sustainable future.
Emily Floyd, who grew up in Melbourne, participated in children's workshops designed by Ruth Crow that aimed to foster collective action and a sense of common purpose. Today, as an artist, Floyd sees the Ruth & Maurie Crow collection as offering an opportunity to consider how the past might inform the present, and the future.
To create Ruth and Maurie Crow Archive as part of her exhibition, Floyd used the following materials from VU Library's special collections:
pamphlets related to various countries such as Australia, Singapore, Malaya, India, Egypt, Poland, Russia
books about the women of the West and plans for the City of Melbourne
black and white photographs of children and women of the West (Sunshine Women)
selected ephemeral materials from the Crows' trip to Russia
Materials from the Ruth & Maurie Crow collection also inspired the artist in her creation of a suite of large-scale screen prints, Solve your personal problems socially, 2014. The title of the screen prints was borrowed from a poster created by Ruth Crow.
Emily Floyd: The Dawn, which traces the 15-year career of the artist, is at The Ian Potter Centre, National Gallery of Victoria, Federation Square, until 1 March 2015.