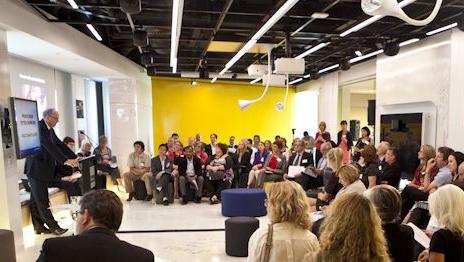 Victoria University launched its Blueprint for Curriculum Reform: Capabilities for the Future on 20 November 2012.
Speaking at the launch VU's Vice-Chancellor, Professor Peter Dawkins said, "The world of work is changing. Rapid technological progress, increases in global mobility and growing emphasis toward a knowledge-based economy mean that the jobs of tomorrow "" and the skills required to conduct them- must evolve.
"It is widely accepted that in order to sustain productivity growth, Australia needs more tertiary qualified workers. Government policy allowances, such as uncapping the higher education and Victorian vocational education and training (VET) markets has resulted in rapid tertiary education enrolments. Equity targets are also encouraging participation from groups that have historically been underrepresented in tertiary education, such as indigenous Australians and those from low-socio economic backgrounds.
"Employers are not only looking for more highly qualified workers and professional experts, they are also searching for those with skills like team work, communication, critical and creative thinking.
"Employees themselves will have longer working lives and a higher number of jobs within a career. Life-long employees in a single organisation will be increasingly rare. To support career development and shifts, individuals will need to engage and re-engage in tertiary education.
"Equipping individuals with the agility and capabilities required to navigate this challenging new reality of work requires a concerted effort and is paramount for Australia's social and economic prosperity. Bold adjustments to the way tertiary education is delivered, and indeed to the educational products that are delivered, are essential to foster successful graduates for tomorrow.
"Capabilities for the Future, is our promise to better serve students through a range of distinctive curriculum products and pathway options designed to meet 21st century challenges.
"Integral to our reformed curriculum will be an emphasis on generic capabilities embedded into every course of study, spanning every AQF level, at Victoria University. Among other methods, Victoria University will deliver additional capability units, or university studies, to support students to develop the capability for them to be: adaptable and capable 21st century citizens; confident and creative lifelong learners; and responsible and ethical citizens.
"I am certain that this new direction is not only fulfilling our own vision and mission, but contributing significantly to the Government's agenda of building a high-quality tertiary education sector which educates graduates for real world success."