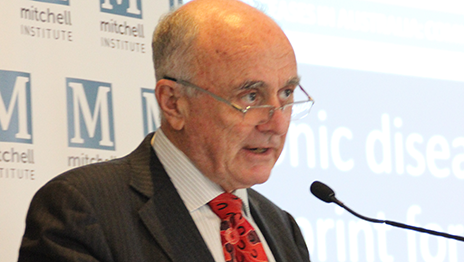 The Mitchell Institute at Victoria University has launched a blueprint for preventive action on chronic disease, which has gained support from over 40 of Australia's major public health and research organisations.
To date 46 organisations, including Victoria University, have signed up to a Chronic diseases prevention for Australia: Statement of commitment to establish a platform for national chronic disease targets.
The Statement was launched at a Mitchell Institute for Health and Education Policy event this week, attended by 90 health experts from across Australia.
Chair of the National Mental Health Commission Professor Allan Fells AO said the number of chronic disease sufferers in Australia now numbered over seven million - and the impact on individuals, communities and the economy was significant and unacceptable.
"Australia is taking an ambulance at the bottom of the hill cliff approach to chronic diseases. We should be putting a fence at the top of the cliff instead," said Professor Fells when launching the Statement.
"If we are truly interested in having a sustainable health system – then preventing illness must be a focus."
The World Health Organization reports that up to 80 per cent of heart disease, stroke and diabetes cases are preventable. Work is already underway to auspice the development of an Australian set of indicators and targets that are consistent with the international target of a 25 per cent reduction in premature mortality from chronic diseases by 2025.
In her new report to the Mitchell Institute Chronic diseases in Australia: Blueprint for preventive action, Dr Sharon Willcox provides a detailed framework for reducing the burden of chronic illness.
The report sets out three strategic priorities, including driving change in health behaviours, creating accountability and measuring progress, and generating community support and action on prevention.
Professor of Health Law and Governance at the University of Sydney Roger Magnusson said the Willcox report was impressive, and timely.
"In many ways prevention is going backwards," he said. "Action by government is necessary but not sufficient to prevent chronic diseases – community support is essential for success local action and activities."
Professor Magnusson endorsed the report's recommendation for national targets, and said currently there is too much emphasis on personal responsibility for chronic disease prevention in Australia.
"I am a great believer in personal responsibility – it's an excellent strategy for every individual - but we've been asking it to do the work of public policy and that's crazy," he said.
"Imagine if our prescription for road safety was a personal responsibility. Instead, we make roads safer, cars safer, introduce speed and blood alcohol limits, random breath testing, and run media information campaigns."
The Mitchell Institute health program will continue to collaborate with partner organisations to implement the strategic priorities included in the Blueprint for preventive action and the Statement of commitment.