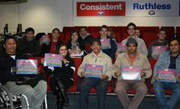 As part of the ongoing relationship between Victoria University and the Western Bulldogs a group of Victoria University International students, in May this year visited Whitten Oval and were taken on an 'insider's tour' of the Mission Elite Learning Centre. The majority of students are studying at VU's Footscray Campus and have come to Australia from all over the world including countries such as Malaysia, Spain, Germany, Pakistan, Sri Lanka and the USA.
The students thoroughly enjoyed the tour, snapping photos along the way and had plenty of questions about the game, the facilities and the players for the guide to answer. Part of the tour included the "Welcome to the AFL" presentation. The presentation provided information about AFL teams, rules of the game, scoring, umpiring and stadiums.
VU students are given the opportunity to a 'free 3 match membership' as part of the partnership. For their International students this provides a way to not only soak in some Australian culture and become familiar with our only indigenous sport, but also provides an avenue for them to meet new people and build friendships.
The visit to Whitten Oval provided a fantastic lead up to the Rnd 6 match vs. St Kilda that students had access to via their free 3 match memberships. Another International student's visit is planned in the lead up to Rnd 18 vs. Fremantle
As a result of the visit, there is an increased interest in the Western Bulldogs FC and Australian football in general.
The AFL / Western Bulldogs Multicultural Program is a partnership between the AFL, AFL Victoria, Western Bulldogs and the Victorian Government.