V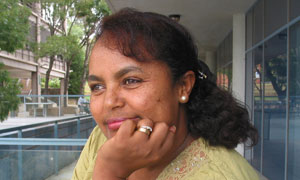 ictoria University's Elleni Bereded-Samuel has been appointed to the Board of the Special Broadcasting Service (SBS), the country's national multicultural and multilingual public broadcaster.
This is the first time that the SBS, as well as the ABC, have had merit-based members appointed by independent panels to their boards of directors.
The Point Cook resident and former television journalist in Ethiopia said she was honoured to accept the five-year-appointment.
"What I bring to the role is the voice of diversity and community engagement from the grassroots, and ideas on how we can build on those strengths", she said.
As the University's community engagement co-ordinator, Elleni has brokered numerous partnerships between VU and community organisations, government departments and international groups. She is a recent recipient of the University's Vice-Chancellor's Citations for Outstanding Engagement with culturally and linguistically diverse (CALD) communities in Australia.
Elleni has focused her life's work on strengthening education, training and employment for CALD communities. She was chair of the SBS Community Advisory Committee, is co-founder of The Horn of African Communities Network, and member of the Victorian Multicultural Commission.
Elleni won the 2008 [email protected] individual national award and was presented with her prize by Sir Bob Geldof at a gala dinner. She is also a recipient of Victoria's Premier Awards for Excellence in Multicultural Affairs, and her name has been included on the Victorian Honor Roll of Women.
Elleni was appointed to the federal government's Social Inclusion Board last year, aimed at helping to dismantle the barriers many Australians face in accessing the benefits of work, education, community engagement and basic services. She was one of four VU officials selected to attend the Rudd Government's Australia 2020 Summit in early 2008.