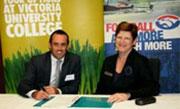 Victoria University College has teamed up with the Western Bulldogs to launch a new training partnership that will help young people complete secondary school.
CEO Simon Garlick and VU DVC and Director, TAFE Professor Anne Jones signed the agreement on 1 February 2011.
Young people in its VCAL program will now enrol with links to VU through VU College. As part of the program they will develop academic, social and work-related skills.
As part of the same agreement, the two organisations will continue their shared support of SportsWest, a sport-themed VCAL launched last year. It was developed by former Bulldogs CEO Campbell Rose and former VU Vice Chancellor Professor Elizabeth Harman for secondary school students looking for an early start to a sports career.
Professor Jones said, "Both projects show a demonstrated need for applied, project-based learning and a shared commitment to the young people of this region."
Graduates from both programs can use the benefits of VU's TAFE pathways to broaden their skills and eventually go on to higher university education.
Mr Garlick said the agreement signals the beginning of a new iconic partnership with VU that would bring the Bulldogs' community education programs to a new level.
"We've realised that education isn't our core business, but with a partner like VU, the sky is the limit," he said.