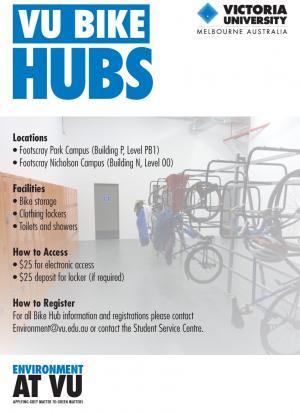 Do you ride your bike to work or university? Well now there is a safe place to secure your bike during the day, to have a shower and store your bag.
Bike Hub facilities are now open at both Footscray Park and Footscray Nicholson campuses. The Bike hubs include bike racks, clothing lockers, toilets and shower facilities. Access to the bike hubs is via an electronic fob, each fob costs $25. Use of a locker also costs $25 (these are one off deposits).
To register for your fob and to start using the bike hub please email [email protected] or pop in to your campus Student Service Centre.