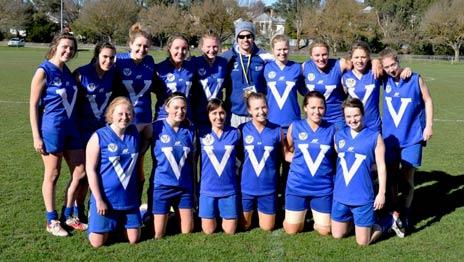 Victoria University (VU) has taken out the Spirit of the Games Award at the 2013 Southern University Games (SUG), held in Ballarat 6-11 July.
The award recognises the university showing the best sportsmanship, capturing the spirit of the University Games, with the winner determined by a committee and based on criteria of athletes, management, special events, team support and spectators.
Represented by 190 athletes and officials, VU brought home 1 gold medal, 6 silver medals and 1 bronze. The strength of VU's women's Australian Rules football team prevailed over local favourites the University of Ballarat in the final.
Five of our teams performed exceptionally well throughout the week long competition, progressing to gold medal games where there were some extremely tight finishes. Our (Men's) basketball team were defeated by 7 points in the dying minutes by Deakin, and our (Men's) football (soccer) team losing to a heartbreaking penalty shoot out to Latrobe.
The University is now focusing on preparations to have teams and individuals compete at the 2013 Australian University Games on the Gold Coast in September.
Medal tally
Gold: Australian Rules (Women's)
Silver: Basketball (Men's), Cross Country (Women's) (Bronwyn Humphrys), Football (Soccer), Netball (Women's), Tennis (Men's) (James Martin), Ten Pin Bowling
Bronze: Basketball (Women's)
Visit us on Facebook for more photos and information on the games.