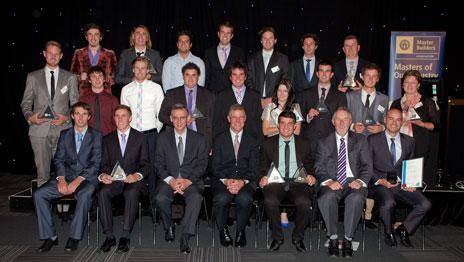 Victoria University students Liam Gardiner and Blake Jobson were named two of the state's best apprentices at the Master Builders Association's Apprentice of the Year awards held last night.
Liam was named Carpentry Apprentice of the Year and Blake was awarded Joinery Apprentice of the Year, as well as the Metropolitan Apprentice of the Year.
More than 600 hundred apprentices from every corner of the state are considered for the prestigious awards, which recognise emerging talent in the building and construction industry.
"As a team we are so proud of Liam and Blake" says Peter Jacobson, Director of Training at Victoria University's Trades College. "They are both committed to being the best they can be in their respective fields. These awards recognise not only their hard work and skills, but also the commitment of our teaching team to provide quality and industry-relevant training."
For Liam Gardiner, the awards are validation of a career change. The 31-year-old became a carpenter after working in hospitality for many years. "Carpentry is a great industry, I fell in love with the trade instantly" he says.
"I enjoy working with my hands and creating something to be proud of. I have started my own business and I am working towards my Master Builders License and plan to advance into property development. This award acknowledges my skills as a successful tradesperson."
Blake Jobson is working in the family business and the succession planning has begun. Blake will take over the business when his father Alan retires later this year.
"Blake is the personification of what an apprentice and tradesman should be" says Michael Hick, his Carpentry & Joinery Teacher. "He is a diligent worker and solution orientated. He gets in there and gets the job done to the highest standard."
Victorian Minister for Higher Education and Skills Peter Hall presented major awards at the event, which drew 800 industry representatives and guests to Etihad Stadium.
Victoria University has a strong and continuing commitment to the trades sector. Its Trades College focuses on delivering industry-relevant apprenticeships and pre-apprenticeships as well as skills recognition and training, while VU trades' students are consistently recognised for industry awards and in skills' competitions.