Thursday 28 February 2013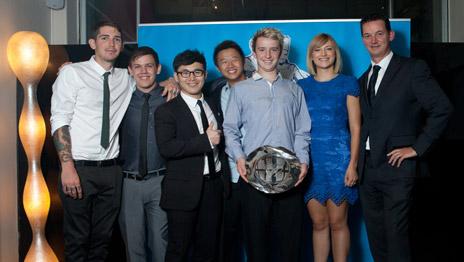 Victoria University apprentice Jacob Hoskin was awarded the International Culinary Scholarship at the Fonterra "Proud to be a Chef" Gala Dinner held at Ezard last night.
The Fonterra "Proud to be a Chef" program has been designed to recognise and reward the potential shown by the best and brightest Australian and New Zealand apprentice chefs. The annual program receives hundreds of applications. Each applicant is evaluated on their demonstrated passion and commitment to food servicing, as well as their goals, aspirations and an original recipe.
The 32 finalists enjoyed three days of master classes learning and developing new skills under the guidance of Australia's best chefs.
Jacob, a third year Victoria University apprentice who studies at the Academy Sofitel and works at Neilsons in Traralgon, was surprised when his name was announced as the winner. Jacob said he was overwhelmed to be awarded such a unique opportunity and was proud to be showing the world what Victoria's apprentice chefs have to offer the culinary industry.
Jacob captivated the judging team with a delicious original recipe for Crispy Scaled Barramundi with Avocado Mousse, Verjuice Butter, Radish and Wild Sea Vegetables. Jacob was also named Australia's top apprentice chef at the 2011 Australian Culinary Federation awards.
Fonterra Proud to be a Chef co-ordinator, Carolyn Plummer, said this year's competition was close and that the innovation and enthusiasm of the participants was outstanding.
"Fonterra is proud to support these bright Australian and New Zealand apprentice chefs and offer them this unique opportunity to enhance their careers and learn from some of the industry's top icons."
Fonterra is a global leader in dairy nutrition – the preferred supplier of dairy ingredients to many of the world's leading food companies. Fonterra is also a market leader with consumer dairy brands present in Australia/New Zealand, Asia/Africa, Middle East and Latin America.
The Academy Sofitel has an exclusive relationship with Victoria University to deliver the Advanced Diploma of Hospitality and the Certificate III in Hospitality (Commercial Cookery) in a way that is unsurpassed in industry and education.