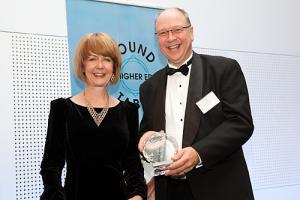 Victoria University received the Ashley Goldsworthy Award for Sustained Collaboration between Business and Industry at the 2011 Business-Higher Education Roundtable (B-HERT) Awards.
The award acknowledged that Victoria University has established long term relationships with groups and organisations in the areas of research, education and training, and provision of community support. The University has developed innovative programs designed to assist groups such as migrants and refugees from cultural and linguistically diverse backgrounds. Collaborations include sporting clubs, businesses, local government, employer bodies, police, health bodies and art groups, covering both the higher education and TAFE sectors.

Vice-Chancellor Professor Peter Dawkins said, "There is no doubt that we have distinguished ourselves through the emphasis we place on our connections with industry and community, in our learning and teaching, and in our research and knowledge exchange."

Victoria University was also recognised for the Best Collaboration with a Regional Focus in R&D or Education and Training for a project on Competitive Supply Chain - Targeting Skill Needs in the Regions along with other TAFE institutes and partners.
The Australian Community Centre for Diabetes (ACCD) and partners received an Honourable Mention for the Diabetes Education and Awareness Program of Culturally and Linguistically Diverse Communities of Western Melbourne.
Victoria University was also part of the Australian Power Institute Consortium that won the Best Higher Education and Training Collaboration.