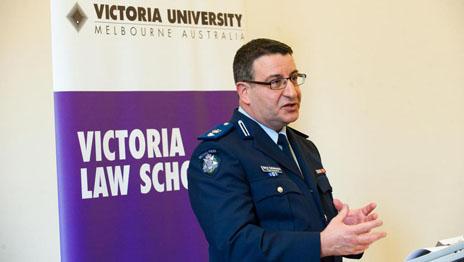 The Dean of the Victoria Law School, Professor Andrew Clarke officially launched the Victoria Police Prosecutors pathway into a Victoria University Bachelor of Laws, on Friday 7 September 2012.
The pathway specifically recognises the skill, professional attributes and study experience of existing Police Prosecutors who will receive credit for their study, training and experience as a Police Prosecutor, and will be able to pathway directly into VU law.
Victoria Police who have studied the Prosecutors Training Course or the Graduate Certificate of Public Safety (Police Prosecution) will be eligible for substantial study credits.
Professor Clarke said Police Prosecutors were "clearly committed to lifelong learning", that he was "delighted to celebrate a partnership between Police Prosecutions and Victoria University", and that they were "fantastic people to work with".
He said, "We think this is a great program and we are very excited about it."
Superintendent Spiros Kalliakmanis from Victoria Police said: "We are very pleased to see the training and expertise of our Police Prosecutors being recognised by giving them this opportunity to pathway into further education and gain more valuable skills."
"This opportunity is not just open to prosecutors but other officers with similar goals."
Acting Senior Sergeant, Anne McLaughlin, who is also a VU law student, spoke highly of the course saying, "Much of what we were learning had practical application in the work we did every day in Police Prosecutions. Our tutors and lecturers have ignited a passion in us."