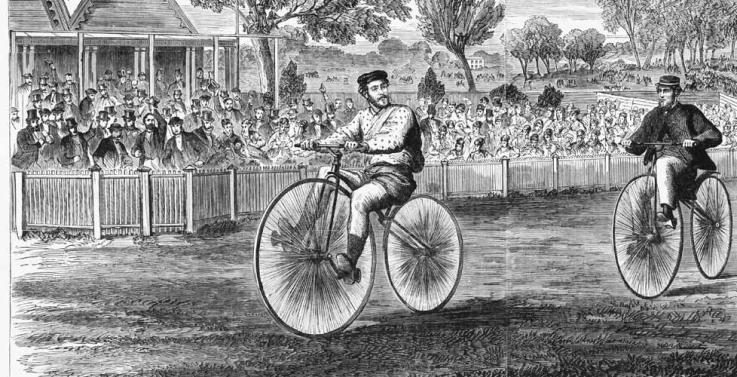 As Australian cyclists shine at this month's Giro d'Italia, records show Victorian riders have long been our best performers.
Associate Professor Craig Fry said that since the beginning of Australia's long association with the Grand Tours - including the Giro d'Italia and Tour de France - and other international events, it's been Victorian riders leading the way.
"Victorians have been the first Australians to compete in, win, and wear the most prized jerseys of the biggest European tours and classics," Associate Professor Fry said.
"Victorian cyclists have also won more Olympic and Commonwealth Games medals, more World Championship medals, and more National Championship titles, on track and road than their counterparts in other states."
Victorians Iddo Munro and Duncan Kirkham were Australia's first cyclists in the Tour de France in 1914. Over more than a century, Victoria riders have continued to notch up an impressive list of achievements. In April 2014 Victorian Simon Gerrans became the first Australian to win Liège-Bastogne-Liège as well as the only Australian to win stages in three Grand Tours – the Tour de France, Giro d'Italia and the Spanish Vuelta.
Historical records show Victorians were early adopters of the 'new' sport in the 19th Century. Shortly after the first velocipedes arrived in Melbourne from Europe in 1868, Australia's first bike race was hosted by Melbourne's Velocipede Club at the Melbourne Cricket Ground on 10 July 1869 in front of 12,000 cheering fans.
The first long distance ride in Australia was in October 1869 when William Kernot rode from East Melbourne to Geelong in 9 to 10 hours.
Melbourne's Austral Wheelrace has been the pinnacle of Australian track racing since 1887 and the oldest track cycling handicap race in the world.
By 1898 even workers at the Melbourne General Post Office, and some Victorian police constables had begun using bicycles.
"Barely three decades after the first bicycles arrived, cycling was an activity all parts of society participated in – the well-to-do and the working class; men and women; the elderly and the young; Europeans and Asians; and people in the city, towns, and regional areas alike," Associate Professor Fry said.
Well-known vintage bike collector Paul Farren has argued Victoria's cycling pre-eminence since the 1880s was due to the affluence, favorable climate and generally flat terrain. Associate Professor Fry argues that a number of other factors unique to Victoria's cycling history are probably also relevant to explaining the state's leadership in cycling.
"These factors could include the early uptake of cycling in Victoria, the local emergence and growth of cycling lobby groups, the lineage of strong amateur and professional governing bodies and network of clubs, the number and popularity of cycle racing tracks and ongoing mainstream media coverage of local, national and international racing and other cycling feats," he said.
See the full version of Associate Professor Fry's article on the Conversation.