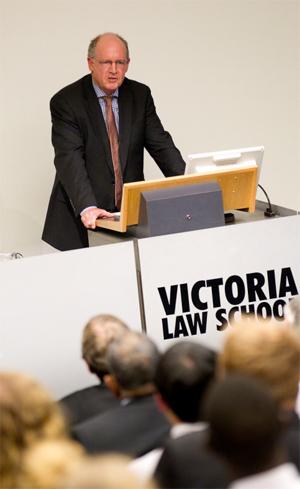 Victoria Law School (VLS) hosted the second Annual Michael Kirby Justice Oration on Thursday 24 November 2011.
The evening commenced with refreshments in the historic courtyard at the Law School's Queen Street campus. VU Chancellor, Mr George Pappas, Vice Chancellor Prof. Peter Dawkins, Faculty of Business and Law Executive Dean Prof. David Lamond, and Head of Victoria Law School, Prof. Andrew Clarke were in attendance, together with several VLS alumni, staff and students. The County Court and various Magistrates' Courts were well represented, as were the various law firms and legal industry organisations. The formal proceedings began with a welcome by Prof. Clarke, which included the official launch of DICTUM: Victoria Law School Journal.
As the Hon. Michael Kirby was unable to attend, a letter from him was read out by current VLS student, Julia Swift. An excerpt from the letter follows:
'Sentencing was described by Lord Kilbrandon in 1966 as the most 'painful' and 'unrewarding' of judicial tasks. Yet, it is essential to the notions of liberty in a civilised society, as well as to universal human rights, that the task should be performed in a principled, consistent and fair manner.
I send special good wishes to Ian Gray and I thank the Victoria Law School for maintaining the initiative of this Oration. When lawyers cease to be concerned with justice, they have lost the noble ingredient in their profession.'
The Hon. Frank Vincent introduced the oration, which was then delivered by Chief Magistrate Ian Gray. Mr Gray spoke with both passion and eloquence on the topic, 'Sentencing and Other Controversial Issues: Why we need rational debate more than ever'.
Download a pdf of Chief Magistrate Ian Gray's oration , or to listen to a recording.