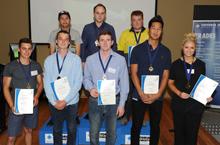 Victoria University Trades College students won 9 gold medals in the 2013 Regional WorldSkills competition – known as the Olympics of vocational training.
The day-long competitions provided nearly 50 VU students the opportunity to showcase their passion and talent in fields ranging from beauty care to welding.
VU's Trades College has long hosted regional competitions, which this year included six other training organisations from Melbourne and country Victoria.
Trades College Dean Kath Curry says the competition is a testament to what can be achieved through innovative approaches and close links to industry.
Beauty category Gold medallist Lauren Karman, says "the day was full-on. I was very nervous. I had to familiarise myself with new products and I was surprised when I won."
Gold medallist in Bricklaying, Michael Tran says the competition taught him about time management. "I was under the pump to build a free-standing wall and I did it in less than four hours."
"You can get lost in your day-to-day work", says Steven Di Berardino, winner in the Joinery category. "The good thing about the competition is that you can prove to yourself that you've got the skills."
All Regional Gold medallists are eligible to compete in a three- day WorldSkills National competition in Perth in 2014.
Gold Medallist in Heavy Fabrication- Welding Darren Barnes says he's keen to go to Perth and test himself against Australia's best trainees and apprentices.
"Imagine winning the Nationals and then winning the Internationals, says Carpentry Gold medallist James Brettel. "You could put 'Best in the World' on your CV."
The 2015 International WorldSkills Competition will be held in Sao Paulo, Brazil.
VICTORIA UNIVERSITY WINNERS
BEAUTY
Gold: Lauren Karmen
Silver: Jessica Lamberti
Bronze: Molly Pattison
BRICKLAYING
Gold: Michael Tran - Employer: Tan Tran
Silver: Daniel Woodhead - Employer: Gerd Junker
Bronze: Bradley Woodhead - Employer: Rob Iaria
CARPENTRY
Gold: James Brettell - Employer: Brettell Developments
Silver: Christian Vergara
Bronze: Callum Ballantyne - Employer: WM Building Services
CONSTRUCTION STEELWORK
Gold: Taylor Cox - Employer: Jim Howson P.S.F.
Silver: Dylan Forbes - Employer: Don Forbes
Bronze: Mitchell Varady - Employer: Boral
HEAVY FABRICATION–WELDING
Gold: Darren Barnes - Employer: Toll Fleet
Silver: Owen Dowell - Employer: BAE System
Adult Category: Quoc An Ngo - Employer: Transfield Services
LIGHT FABRICATION–SHEET METAL
Gold: Dylan Linehan - Employer: Bronson Sheetmetal
Silver: Daniel Moody - Employer: Silver Glo
Bronze: Luke Dyt - Employer: E & S Mechanical Services
JOINERY
Gold: Steven Di Berardino - Employer:Schiavello Pty Ltd
Silver: Zlatko Nanakovski - Employer: PH Sons Renovating and Building
PLUMBING
Gold: Dylan Di Martino - Employer: Pauls Plumbing Service
Silver: Roger Tahana - Employer: O'Flynn Plumbing
Equal Bronze: Ryan Lane - Employer: Profinish Plumbing
Equal Bronze: Tim Skillen - Employer: Philippov Plumbing
SIGNWRITING
Gold: Clinton Levey - Employer: Sign Effects Wangaratta