Wednesday 10 September 2014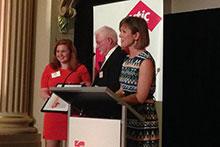 Victoria University's Bachelor of Business courses continue to produce future tourism and events leaders with three major awards presented recently to VU students and graduates.
Emma Cullen, a recent graduate who now works at Eureka Skydeck, received the prestigious Lynette Bergin Award as a new rising star in the industry. The Victoria Tourism Industry Council (VTIC) award was presented at the prestigious leadership dinner celebrating the start of Victoria Tourism Week.
"My project is focused on 'Activating the Yarra River' and includes the development of a research based strategy and recommendations to drive mixed use visitation and tourism investment in the Yarra River precinct including opportunities for cultural events, festivals and collaborative marketing concepts. Melbourne will be compared to both a domestic and European destination that boast regular and successful activation of their city based rivers. The notion of successful waterway activation for Melbourne resonates with both private and Government stakeholders, so the outcomes from this research project will have broad relevance.
As part of my experience at Victoria University, the Work Integrated Learning placement year provided me with an opportunity to travel to London and develop my leadership skills and industry experience. This proved crucial to securing my next role that lead to my employment at Eureka Skydeck."
The Lynette Bergin Tourism Award includes an $8,000 grant towards project expenses.
Courtney Madden was recognised as an Emerging Talent by the International Special Events Society, which recognises excellence in events organisation. The recent VU graduate now works with 3 Degrees Marketing - a connection she made during her workplace learning placement at VU.
"My experiences gained through the VU Work Integrated Learning (WIL) program were great. I was able to work on some amazing events, which led me to some fantastic opportunities including the ISES Emerging Talent Award."
Alana Veres, a current Bachelor of Business (Event Management) student, was named the 2014 Victoria University Todd Blake Student Award winner at an industry event hosted by the Victorian Tourism Industry Council. This prestigious industry-recognised award is open to VU students in Hospitality, Tourism and Events programs who display passion, commitment, leadership and can-do attitude. In addition to a $500 cash grant, the award includes mentoring or a unique professional and practical work experience with a distinguished industry representative.
"I am very honoured to receive the Todd Blake Award and be recognised for my commitment to the events industry. I look forward to making the most out of this opportunity. My approach to my time at VU is to get out and gain experience in as many different areas as I can - at this stage I don't want to close any options. My lecturers are really knowledgeable about all areas of the industry and Rosemarie, my Work Integrated Learning Co-ordinator, has been really supportive in working with me to access WIL opportunities to volunteer, network and make connections in the industry."
Work Integrated Learning (WIL) manager in VU's College of Business, Barry Broons, credits strong industry connections and workplace learning as key factors in the ongoing success of VU tourism and events students.
"VU is committed to giving our students real-world learning experiences. All VU Bachelor of Business (Event Management) students complete a minimum of 150 hours industry experience. Our WIL team co-ordinate positions with a variety sport, cultural and community events, and is a fantastic opportunity for professional development and to network with industry professionals."
VU's Bachelor of Business (Event Management) and Bachelor of Business (Tourism Management) are three-year degree that helps students develop skills to design, create, implement, manage and market events of all shapes and sizes.
Find out more about our tourism and event courses at VU.