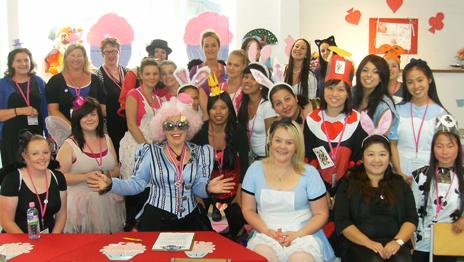 Students from the Diploma of Children's Services planned and implemented a toddler tea party on Sunday 4 March as part of the Melbourne Food and Wine festival.
The event was held by the Footscray Community Arts Centre, who initiated, advertised and took bookings for the event. The toddler tea party was attended by 93 under fives and their families and was deemed a huge success.
As well as planning the event activities, the student designed the program, created decorations and made Alice in Wonderland themed costumes.
Activities on the day included:
cupcake decoration and fruit stick making
mask and hat making
face painting
an obstacle course
a baby retreat area
bowling
bean bag throwing.
The students also assisted in making and distributing pink lemonade and fairy floss, in line with the Alice in Wonderland theme.
Arts and Learning Producer at the Footscray Community Arts Centre, Bernadette Fitzgerald was very pleased with the outcome of the event our students organised.
"On behalf of Footscray Community Arts Centre we would like to extend our enormous thanks and appreciation to you and the wonderful students who worked so hard and professionally at the Toddler Tea Party on Sunday 4 March.
The audience were welcomed into a magical experience that was created by all your hard work up to and on the day. It was lovely to see the students dressed up and smiling in the spirit of the occasion, mindful of their responsibilities but also enjoying their interactions with the toddlers," she said.