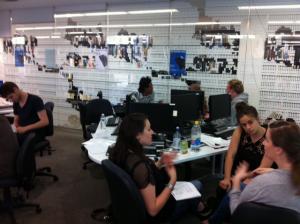 The Writing Space opened Monday 11 April 2011 at the Footscray Park Learning Commons.
It is a new, peer-assisted writing centre where you can speak to a writing mentor about your writing assignments.
Although it is common in many parts of the world, the peer writing centre concept is relatively new to Australian universities. Victoria University (VU) is one of the first Australian universities to start one.
The idea is simple: every writer can benefit from speaking to someone about what they are writing, what they plan to write, or by having someone read over what they have written.
The writing mentors are current VU students and good writers who were selected by the Student Learning Unit (SLU) for the role, as part of the overall Students Supporting Student Learning (SSSL) strategy. This strategy also includes the student rovers in the VU learning commons, various subject-specific peer mentoring programs and the online platform, SNAPVU.
Check out the Writing Space in room P212 of the new Footscray Park Learning Commons.
For Semesters 1 and 2, the Writing Space will be open through SWOTVAC week during the following hours:
Monday - Wednesday, 2pm - 6pm
Thursday - Friday, noon - 4pm