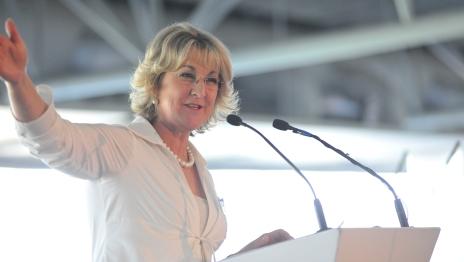 Traditionally, the supply chain and logistics industry has been seen as male territory, yet increasingly, key roles are being filled by dynamic women in fields as diverse as shipping, procurement and the Australian Government's Department of Defence.
On March 22, 2012, these dynamic women also proved to be inspiring role models when they gathered at The Peak, Flemington Racecourse Concourse, for The Strongest Link luncheon, devised and organised by the ISCL.
Joining them at the glamorous venue were more than 170 senior figures in industry, education and all three tiers of government. And listening most avidly to the supply chain and logistics professionals were some 70 female Years 10-12 students from 20 secondary schools in Melbourne's western and northern suburbs.
Officially opened by Victoria University's Chancellor, George Pappas, The Strongest Link delivered a powerful message: "Anything is possible for today's bright, motivated young women."
It was reflected in the career stories of guest speakers including ISCL Director, Dr Hermione Parsons, ADF Lieutenant Colonel Carla Watts and Laura Anderson, Chair of SVI Global and the L'Oreal Melbourne Fashion Festival.
The message was reinforced at the luncheon tables where students and their mentors engaged in lively conversations about the numerous career paths open to women at home and abroad.
A typical response to The Strongest Link came from a student at St Alban's Secondary College, who wrote, "I couldn't have been more appreciative or inspired … it opened up a whole new perspective to the business world."
Her sentiments were echoed by many at the luncheon which was fully funded thanks to strong industry support from sponsors led by Linfox Logistics, Kraft Foods and the Toll Group.
A networking function for professionals that immediately followed the luncheon proved equally popular. The feedback was dominated by a plea: Make The Strongest Link an annual event. "That is very likely," responded Dr Parsons.