Victoria University and Connect recently announced a partnership where Connect, in association with Metamark UK Limited, will become VU's major supplier of vinyl and digital media products.
Peter Jacobson, Head of School, Construction Industries said, "Victoria University and Connect have had a long association, and these new agreements mean that we can creatively and flexibly address the skills shortage within the sign industry. The travelling roadshow will showcase new technologies, and show students that VU is the leader in Victorian sign industry training."
Jacobson said that Connect's support will significantly reduce the costs of materials to Victoria University so that funds can be redirected into other programs in the future as required. It will also means that a greater range of materials can be utilised with in the trade school to help facilitate the learning process.
Paul Coniglio, Connect Marketing Manager said, "It's very important that we partner with learning institutions that will help train the future leaders in our industry. There is a huge skill shortage in the sign industry and I hope over a period of time and with extra investment from the business community, that young people will start to see signage, digital print and design as a vibrant and exciting career choice. We see Victoria Uni as a leader in education to our industry and it's great to take our support to a higher level."
School of Construction Industries
Sign Writing
Phone: +61 3 9919 7300
Email: [email protected]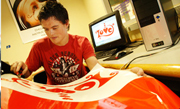 Young signwriter at work