Thursday 19 December 2013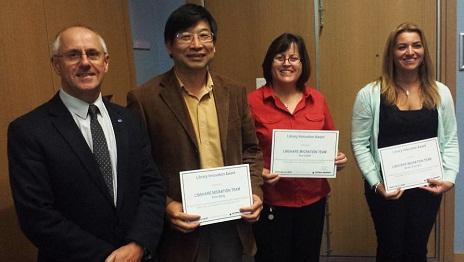 In November of this year VU staff and students were given the opportunity to help recognise the great work of VU Library staff by nominating individuals or teams for Library awards.
The following library awards have been presented:
The innovation award went to the LibShare Migration team.
LibShare was a project that involved moving approximately 30,000 library files to a new Sharepoint file structure.
This project has helped the Library:
improve its records management and information architecture
meet government compliance
improve functionality, navigation and usability for users.
The team included Theresa Pfeiffer, Cathy Tambakis, Ana Luarte, Jenny Fafeita, Yimin Zeng, Miriam Ruscigno as well as Project Manager Esad Ibrahimovic and Joshua Bernard.
The service award was presented to Murray Greenway, College Librarian (Law & Justice).
Working at the City Queen library, Murray has improved library services by:
adding QR codes (linked to the library catalogue) on book covers of the Queen Street Reference Collection that enable students to check if a book is available.
promoting eBooks by introducing a display highlighting the cover, title and QR code (linked to the catalogue) for the benefit of passing browsers at City Queen library.
actively helps library patrons – he collects subject guides to help students find the necessary information and he teaches them how to use library resources. "I enjoy using my own experiences as a law student to improve the relevance of library services for VU law students", said Murray Greenway.
This award also recognises the good working relationships that Murray maintains with academics. He has worked on a 35-page guide to tort law research published in Torts: A Practical Learning Approach (LexisNexis, 2014).
The outstanding contribution award was presented to Mark Armstrong-Roper, College Librarian (Arts), for his contribution to the Library Special Collections.
Since joining VU Library in 1995, Mark Armstrong-Roper has worked within the field of Arts, and has seen the Library Special Collections grow from two collections to 12 collections. "All the work done since 1995 has made an outstanding contribution to research at VU. It was not just me. I was supported by library management and the Information Resources and Collection Services of the Library", said Mark Armstrong-Roper.
Mark has:
digitised key documents outlining how VU Library obtained the collections and the agreements on retention and usage.
documented the collection process
created a collection development policy for each of the Library's Special Collections & Archives.
What motivates Mark to keep improving the Library's Special Collections is the opportunity to work with researchers. "It's a traditional library service – looking after old and rare print materials and working with researchers who get a lot of joy when finding these Special Collections here at VU."