Thursday 13 September 2012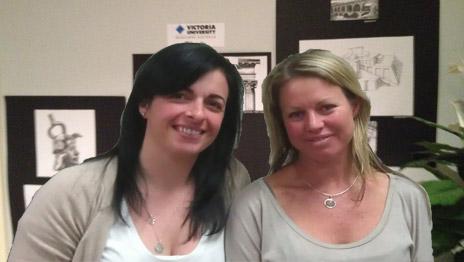 Advanced Diploma of Building Design (Architectural) students are showcasing their talents at state-wide exhibition being sponsored by Clipsal Schneider Electric (Australia)
The brain child of teaching collective, Victorian Advanced Building Studies Network Group (VABSNG), this annual event gives TAFE students from across Victoria the opportunity to display their work.
"As well as showing them support and recognition, it is a great opportunity for our hard working students to have their work reviewed by their peers" says VU Architectural Design teacher, Sue Habib. "It's beneficial for all the students involved as they are exposing and being exposed to new concepts and innovations"
Clipsal Schneider Electric (Australia), a market leader in electrical accessories, data communications, industrial and home automation markets, is providing the exhibition space their 'Powerhouse' display home in North Fitzroy.
The Victoria University contingent includes representatives from each study year of the Advanced Diploma of Building Design (Architectural). Students were given a design brief consistent with their learning level.
Bethanie Ereaut, Jessica Micevski, Tina Mersini and Mike Hook were among the first year students from TAFEs across Victoria designing a single storey, three bedroom home to meet the key criteria, an eight star energy rating. "The whole experience has been an eye opener "says Tina Mersini. "The technology that is now available to make a more sustainable home is amazing."
These sentiments were echoed by Sylvia Gashi and Tracey Lulich second year students designing a multi storey commercial building and a factory. "The product advancements allow us as designers to stretch the boundaries, bringing our visions to fruition without breaking the budget."
David Barnes and Michael Lyons, in their final year of study appreciate the value of participating in the exhibition. "It allows us tackle a real project situation letting us showcase our ideas and talents." Their project was to design and document an aquatic centre.
Victoria University offers an Advanced Diploma of Building Design (Architectural) which prepares students for a future career as an architectural building designer or draftsperson.
The exhibition is open to the public Monday – Friday 9am -5pm until 17 September 2012
Clipsal Schneider Electric (Australia) Powerhouse
83-89 Queens Parade
North Fitzroy
For more information on the courses available please contact our team

Advanced Building
Phone: +61 3 9919 8408