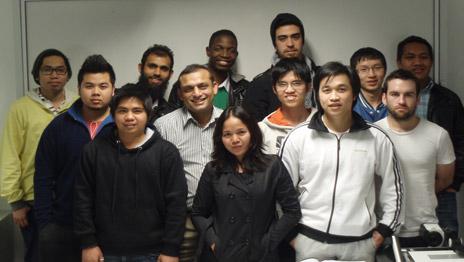 Students at Victoria University are helping local businesses reduce their environmental impact by conducting a sustainability audit as part of their Advanced Diploma Engineering Technology - Electrical.
A group of 22 students will be completing a full sustainability audit of Buffalo Trident's (a division of Bitzer Australia) premises and their use of existing resources. Sunshine based business will have floor plans reviewed, lighting systems evaluated and even recycling opportunities evaluated. The audit has a dual purpose, to review the company's environmental impact and offer solutions that will ensure it remains competitive in the marketplace.
Buffalo Trident is well aware of its environmental responsibilities. The heat exchanger manufacturer has for many years been working with major customers to utilise the latest technology and environmental engineering solutions in production.
The Buffalo Trident team, lead by Nimal Pandithakoralege, are enthusiastically participating in the project.
"Our organisation has developed a number of systems for clients. We have a great opportunity to share the solutions we have already implemented and learn about new resource management technologies."
VU includes a strong learning in the working place component in its courses. Guided implementation of theoretical skills has a positive impact on student learning.
"Going into a working business really lets our course work fall into place", reports Roselle Briscoe of the audit group. "This experience is reinforcing what we have learnt. I'm a practical person so actually doing the task has made it real."
The audit results and an action plan will presented to Buffalo Trident in November.
The School of Engineering and Industrial Training offers engineering courses from Certificate level through to Advanced Diplomas in Electrical, Mechanical, and Civil.
Contact our team for more information on studying Electrotechnology.
School of Engineering & Industrial Training
Phone: +61 3 9919 7140
Email: [email protected]