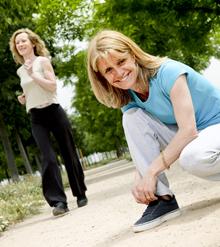 The Women's Wellness in the West seminars are one of many initiatives aimed at promoting vital health information to women in Melbourne's West.
Over 100 women of all ages and cultural backgrounds attended the free public seminar on successful ageing, the 17th of its kind, held at Victoria University's Sunshine campus in June. The seminar was organised by Victoria University academics, Professor Lily Stojanovska and Dr Erika Borkoles along with Ms Helen McVay.
Researchers from the Institute of Sport, Exercise and Active Living, Dr Patricia Addamo and Dr Itamar Levinger (also from the School of Sport and Exercise Science) provided valuable insight into how one can maintain thinking ability and retain physical functioning through exercise in later life. Dr Maree Farrow from Alzheimer's Australia Vic conveyed the latest research findings on how to reduce the risks of dementia and rapid cognitive decline.
Attendees enjoyed free mini health assessments from Victoria University's nutritional therapy students and graduates, who measured weight, blood pressure, waist: hip ratio and offered personalised nutritional advice.
The seminar series of the Women's Wellness West Network (WWWN) is the brainchild of Professor Lily Stojanovska from the School of Biomedical and Health Sciences. Having started six years ago, it's the first of its kind to address a vital need for women in Melbourne's West.
According to the Maribyrnong City Council, females in Maribyrnong experience the poorest health in the sub-region. Professor Stojanovska says despite the existence of primary, secondary and tertiary health care in the West, there appears to be a proportion of women who remain disadvantaged in relation to health care access and information.
"Predominantly these women are isolated, experience cultural and linguistic challenges, have disabilities and inadequate support, or are from low socio-economic backgrounds."
Through strategically focused educational seminars and advocacy, the network brings together health professionals, local communities, Victoria University academics and students so women from all cultural groups in the region can obtain essential information on issues related to their health and wellbeing.
"The network builds positive influence and provides opportunity to strengthen and engage with the local communities".