Students at Victoria University's (VU) Sunshine campus have a basketball half-court to practise their set shots thanks to the combined efforts of VU staff and building and construction students.
The court was opened today by Student Engagement Director
Colin Macdonald
with the help of VU Olympian Dennis Iverson. A judo champion who competed at the Beijing Olympics, Dennis is a former VU student who now works for the University's Sport and Recreation team.
Four years in the planning, the half-court was funded by the University and built with the assistance of VU students. Building and construction students from the Newport campus laid the concrete slabs and the half-court will be painted out with lines by students from the painting and decorating program.
Sunshine students who attended the lunchtime opening were treated to lunch and some ad hoc shooting games organised by the University's Sport and Recreation team.
"We've been planning this facility for a long time and it's a testament to the patience and teamwork of those involved that it's now built and open for play," Mr Macdonald said.
"It came together because of the assistance of students, and the enthusiasm of staff and University management."
The court is at the rear of Building B on the Sunshine campus and is open to all students and staff during daylight hours.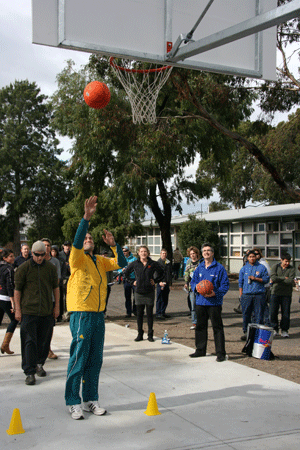 Dennis Iverson shoots a basket