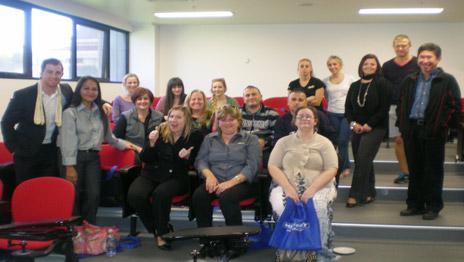 In May 2012, Victoria University was the venue for Subway's franchisee training day for bread baking.
Like VU's School of Service Industries, Subway knows the key to success in these competitive times is offering a quality, consistent product. The Subway franchisees gathered at the VenU training facilities to focus on a key ingredient of the business, their bread making skills.
"Our customers deserve the best quality and expect this on a daily basis" says Daniel Mahony, Subway Development Manager. "The facilities on offer here at VU are just perfect for our training and development. The demonstration theatre has multimedia screens means everyone gets to see the processes being performed.We get nothing but positive feedback from our attending franchisees".
Located in the heart of Footscray, VenU is a 120-seat state-of-the art training restaurant and facilities. Built in consultation with industry leaders, the facilities include three state-of-the-art kitchens with individual stainless steel work stations and the latest cooking equipment; two theatre-style demonstration kitchens; a training bar and multimedia laboratories.
VenU's versatile floor plan offers multiple options to ensure you get the training environment that suits your organisation's needs. VenU can accommodate between 10 and 120 guests. We even have senior students from our event management program to manage it for you.