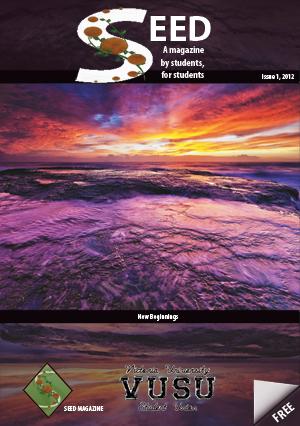 SEED Magazine is published by the Victoria University Student Union (VUSU) and they want your submissions. Send in your work, art, opinions, thoughts and ideas!
Need some inspiration? How about submitting:
Letters and Opinions: respond to previously published work, comment on a current issue, or just have a good whinge about something
Around Uni: Write about VU—events, services, faculties, internship programs, history, anything!
Student Success stories: know anyone whose taken off from the VU launch pad? Interview them and let us all know what they're up to and how they got there.
Reviews: give us your take on a record, book, live performance, festival, venue, sporting event, etc. You can either borrow material to review from us, or fond your own.
Make sure you give your a title and include your name and contact details.
Keep an eye out on campus for Issue 2, available April 16.
Contact Us
For any and all enquires, suggestions, questions and submission pitches, please contact us at [email protected]
SEED Team
Mail:
SEED Magazine
c/o VUSU Footscray
PO Box 14428
Melbourne City Mail Centre
VIC 8001