Tuesday 10 September 2013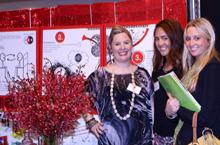 Hundreds of Victoria University students preparing for jobs in Victoria's vibrant tourism, events and hospitality industries met potential employers on Friday 6 September to discuss career and work experience opportunities.
Now in its 20th year, VU's annual Hospitality, Tourism and Events Expo is the major careers event for VU students and graduates seeking employment in an industry that contributes billions to Victoria's annual GDP and employs more than 100,000 workers.
The Expo included more than 40 employers, a number of which were represented by former graduates, such as Paula Ntalianis, Group Training Manager – Hotels, Food and Beverage at Crown.
Paula started with an internship at Crown nearly 15 years ago and has since been recognised by VU for her continued support of the University's Work-Integrated-Learning (WIL) program.
Other participating employers included Sofitel, Tourism Victoria, the Western Bulldogs Football Club, Marriott Hotels, Melbourne Convention and Exhibition Centre, and aviation consultancy Altara – who were recruiting cabin crew for Jetstar and Tigerair.
As part of the Expo, VU Bachelor of Business (Tourism and Event Management) student Tessa McLachlan was named the inaugural winner of the Todd Blake Student Award. The award was created in memory of VU alumnus and tourism industry leader, Todd Blake who died suddenly in 2011 while on holiday with his family in Fiji.
The award, which included $500 plus practical industry mentoring, was established by Todd's former employer, the Victorian Employers' Chamber of Commerce and Industry; the Victoria Tourism Industry Council, where Todd was chief executive; and Victoria University.
The award will be presented annually to a VU hospitality, tourism and events student who best demonstrates Todd's spirit, commitment and passion and leadership.
College of Business Dean Professor Colin Clark noted that VU's reputation in producing career-ready graduate was enhanced through the WIL program.
Peter Jones, director of PJ Special Events told the job-seekers that it was essential to have practical experience before entering the working world.
The hospitality, tourism and major events sector has been identified as one of Victoria University's key distinctive specialisations in its latest strategic plan. VU has been inducted into the tourism industry's National Hall of Fame and is a three-time winner of the Australian Tourism Award for excellence in tourism education and training.