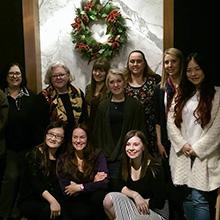 Ten VU nursing students returned from a life-changing study trip to Canada with a new perspective on Indigenous health.
The students visited Vancouver and Vancouver Island, spending time at the University of British Columbia where they attended classes and gave a presentation on nursing and Indigenous health in Australia. Meeting local nursing students, they shared experiences and learnt how the University's Island Health Authority incorporates Indigenous perspectives into their care and work environments.
In a moving experience, they were also welcomed by the elders at the First Peoples House at the university.
VU lecturer and co-ordinator of the study trip, Jennifer Rabach, said that, with Indigenous health being a critical issue for Australian nurses the study trip allowed students to investigate these issues, as well as safety and cultural risk for patients.
Students described the trip as life-changing and a positive influence on how they would practice nursing, with Denise Touzel saying:
"I hope that more Nursing students get to experience a tour like we have, as this trip has opened my mind into the aspects of our community that need the most support in ensuring that all members of the community are able to seek health care on an equal footing."
The students were awarded scholarships worth $2000 each, as part of a Commonwealth Government Higher Education Short Term Mobility Project Grant, to undertake the study tour.