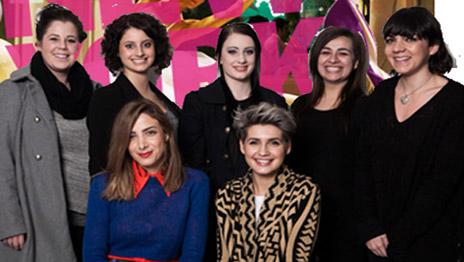 Computer whizzes head to Silicon Valley while aspiring actors descend on Hollywood, for a hair and make-up devotee the opportunity to work on a live show during New York Fashion Week is a career changer!
This September, 8 students from the School of Service Industries will be taking VU's Learning in the Workplace to a new level. The 4 Hairdressing and 4 Make-Up students will be working behind the scenes at New York Fashion Week as part of VU's "Outbound Mobility Program (OMP)". The OMP will investigate the outcomes for students who combine recognised training qualifications with experience applying their skills in an internationally-recognised forum.
An intense selection process was followed to ensure all students were given the opportunity to extend their experience. After facing an interview panel, a review of their portfolio of work to date and an assessment on their skills, a huge congratulations to the following students were selected to head to New York for a feast of fashion, makeup and hair:
Hairdressing students going to New York
| | | | |
| --- | --- | --- | --- |
| | | | |
| Ainslie Fisher | Alishia Misevski | Frankie Endersbee | Linda Fadda |
Make-up students going to New York
| | | | |
| --- | --- | --- | --- |
| | | | |
| Amy McDonald | Annalise Langdon | Natalie Li Volti | Saleena Cheetamun |
Freda Rossidis, Director at Cast Salons will be accompanying the group to support and mentor the students. Freda has directed many high-profile editorials and advertising shoots and has become a regular participant in fashion weeks in Australia and the US.
Freda and VU Teacher Veronica Di Girolamo, a VU graduate herself, will be supervising the students on their 10 day intensive exchange.
While the team is receiving some funding from the DEEWR, each student will still have to contribute almost $5,000.00 towards expenses. The School of Service Industries will be running a Fundraising Dinner to help the students. The dinner, held at VenU Restaurant on Tuesday 14 August, will also feature an auction.
Book your place at the fundraiser dinner: email [email protected]
Not able to attend the dinner but interested in helping get our students to the Big Apple (ie New York)? We'd love to discuss sponsorship options!