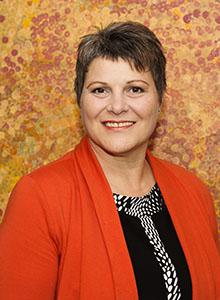 A postgraduate degree at Victoria University could be a professional's launching pad into a successful new career, or a major boost within their current field.
That was the take-home message last night for attendees at Victoria University's Postgraduate Information Evening, where career development practitioner, executive coach and VU alumnus Helena Steel spoke about her career progression and the benefits of postgraduate study.
Helena worked in human resources and industrial relations for 20 years before moving into career development, executive coaching and professional speaking. She built her successful career shift on the back of postgraduate study at VU, completing a Graduate Diploma in Industrial Relations and Masters of Business in Training and Change Management.
Helena highlighted the fact that very few high school graduates stay in the same area of qualification they expected too.
The reality is that most of us find ourselves on the path of on an unplanned career – 70% of the average career will be unplanned. But that's not a bad thing, says Helena. She advocates a 'don't plan' approach. Amid constant change in the job market and some industries disappearing completely, she says re-education has become the norm. The key to the career map is service – who are you going to serve? From there you can focus on the skills required, whether heading in a new direction or building on your existing skills to maximise adaptability.
Helena, who herself followed an unplanned career, recommends identifying strengths and attaching them to a passion. Plan for the unplanned by being flexible, letting things happen and responding to them by seeking out opportunities.
Attendees also had the opportunity to speak with academics and staff, and get career advice.
Prospective students considering a return to study heard tips and advice for getting back into study, basics on the application process, and an overview of available support services.
Interested in postgrad study?
If you didn't make it to the Postgraduate Information Evening, you can still book a free one-hour one-on-one appointment for personal advice or assistance with your application.
Whether you want to climb the career ladder, further your skills, follow your passion, or study with a research community that's internationally recognised for its innovation and expertise, we will help you reach your goal.
VU offers a large range of postgraduate qualifications with flexible entry options. Whether your passion is for business, arts, education, engineering, science, health, law or sport, we can help you develop skills that will establish, or further, your career.
Find out more about how you can take your career to the next level with a Victoria University postgraduate degree.