Wednesday 16 November 2011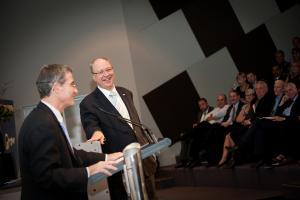 Vice-Chancellor Professor Peter Dawkins presented 27 staff awards at a ceremony last night to celebrate excellence and achievement throughout the University.
Nine peak awards recognised outstanding contributions in learning and teaching, research, service and engagement.
The awards and citations covered a wide range of staff activity from developing student leadership and industry placement programs to research into nutrition and water resource management.
Professor Dawkins told the audience of staff, family and friends that the University was on a path of growth that was reflected in the ambitions set out in the new Strategic Plan to be launched next week.
"It is growing by optimising its learning, teaching and research capability," he said.
"It is committed to delivering excellence by embedding continuous improvement in everything that it does. It is working hard to maintain and build upon the reputation and integrity it is proud of with its stakeholders.
"But most importantly, it is growing an environment in which staff and students can maximise their potential and their capabilities in a way that supports, develops and rewards professional performance.
"We look to our professional staff, our teachers and our researchers to help us empower students from diverse countries and cultures, socio-economic and educational backgrounds - to be successful lifelong learners, grow their skills and capabilities for the changing world of work, and be confident, creative, ethical and respectful local and global citizens."
See full list of winners: