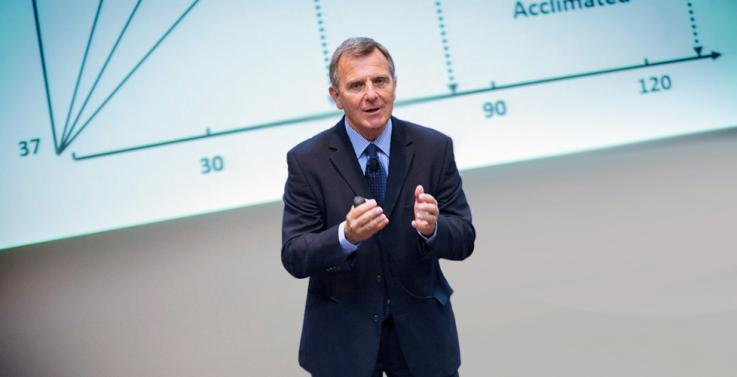 Emeritus Professor Clyde Williams, sports science specialist from the world renowned Loughborough University, UK, presented The contribution of sports science to Olympic success at the 2012 Vice-Chancellor's lecture held at Victoria University last night.
Professor Williams told an audience of Melbourne sports leaders – representatives from the Victorian Institute of Sport, the AFL, Cricket Victoria, Netball Australia, Triathlon Australia, CSIRO and Victoria University sports science – that the key role of sports science is to take the talent of an athlete and bring it to fruition. He said that translational research in the field of sports science means taking science and translating it so it has a real world impact.
Professor Williams defined sports science as "understanding all those significant factors which influence human performance during the preparation for, participation in, and recovery from sport and exercise."
Sports science is all about how it is translated and delivered for the benefit of those participating in sport.
From the real world of Olympic cycling perspective, Professor Williams said that exercise science is about achieving competitive advantage by making marginal gains. It is about looking at the whole sport and how to improve every aspect of it from the helmet, to the bikes to the clothes. But it is also about the lifestyle of the athletes and the psychological environment in which they operate.
Clyde Williams said, "It's a whole body, holistic approach to the sport in order to develop the talent of the individual and make them the most successful sports person that they can become."
Sports science is about providing a structure of support for elite athletes that leads them to win.
In discussing the importance of nutrition for athletes, Professor Williams said nutrition is about using commonly available foods in a specific way and developing strategies for training and recovery.
Getting amino acids into the system quickly after exercise is essential for athletes and milk has all the necessary amino acids. "After exercise milk will do the trick," Professor Williams said.
Track cycling deals with fine margins represented in the difference between gold and silver medals, it is also about exceptional individuals who want to win. "Elite athletes who want to win may almost be described as a separate tribe," he said.
The potential advantage of altitude training based on the success of Kenyan long distance runners is much discussed in the field of exercise science. Research shows that altitude training will significantly improve the performance of some elite athletes, but not all. Further research examines whether or not the difference lies in the iron intake of the athletes and the necessary haemoglobin mass.
Professor Williams concluded by highlighting the benefits of sports exercise medicine and rapid high class diagnostics in helping athletes to overcome injury and be rehabilitated quickly.
The purpose of the annual Vice-Chancellor's lecture is to attract to Victoria University an internationally significant academic in a field of strategic importance for the University.
Victoria University Vice-Chancellor, Professor Peter Dawkins said, "In Victoria University's strategic plan we identify our ambition to be renowned, internationally, in a number of fields and it is our intention to achieve this first in the area of Sport, Exercise Science and Active Living by 2016. This ambition is built upon an already strong foundation of quality learning and teaching courses that we offer in this area and a growing reputation for excellence in research and knowledge exchange, particularly with industry partners."