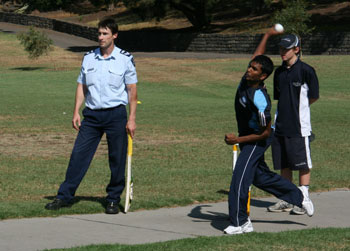 About 70 international students from Victoria University and 10 police officers from throughout Melbourne's western suburbs came together for a cricket match at Footscray Park today under the theme of Harmony in Cricket.
Organised by staff from VU International as a lead-in event to Safety Week next week, the cricket match and associated activities were co-hosted by Cricket Victoria and the Victoria Police Multicultural Liaison Unit based at Footscray Police Station.
Associate Director of VU International Student Support Danielle Hartridge said the impressive turnout showed students were keen to learn more about how the police operate in Australia.
"At a time when some international students are being targeted in violent attacks we're looking at a variety of ways of letting them know the important role the police play in their overall safety," Ms Hartridge said.
Cricket Victoria's Community Programs Officer Andrew Lee said the Harmony in Cricket message is that regardless of race, religion or ability, the game of cricket breaks all boundaries.
"Cricket has an incredible power to bring diverse groups of people together to play one of Australia's culturally iconic games while respecting and embracing cultures that are different to your own," he said. "This includes taking a stand against racism, prejudice and intolerance."
Leading Senior Constable Vic Robb, from the multicultural unit, said: "Today's cricket match is all about building relationships between the police and international students. It's important that we make ourselves available to build trust and understanding on the critical issue of student safety, whether it's on our streets, on public transport or at the beach.
"Cricket is an international language and one of the best ways to engage with students, especially those from the Indian subcontinent, where the game is followed so fervently."
Leading Senior Constable Robb attends VU's Footscray Park Campus for two hours every second Thursday to familiarise students with safety issues. He will also be in attendance with other police during Safety Week next week.
During Safety Week stalls are set up and presentations made to students from a variety of groups, including Victoria Police, Life Saving Victoria, the Metropolitan Fire Brigade and Connex, as well as staff from VU.