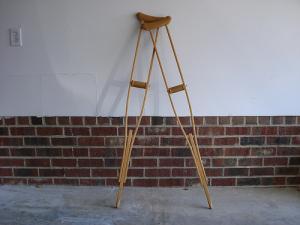 Most of us know the type: those who just can't resist borrowing crutches from injured people and taking them for a spin. Well the time has come for those people to give something back, in the name of science.
That's right; researchers from Victoria University's Institute of Sport, Exercise and Active Living are seeking volunteers to walk with crutches for three weeks, as part of a study into muscle wastage and recovery.
"The up-side is you will probably be offered a seat on the train," PhD researcher Ben Perry said. "But in all seriousness this is important research: we need to know what happens to muscles that aren't used for a period of time and how they change, then how to build them back up again after that."
Participation will involve the use of crutches as well as several exercise tests and muscle biopsies. There will be re-training at the end of the study and some financial compensation.
Mr Perry and study supervisors Dr Itamar Levinger and Professor Michael McKenna urged anyone who may be interested to contact them on 0414 600 986 to discuss.