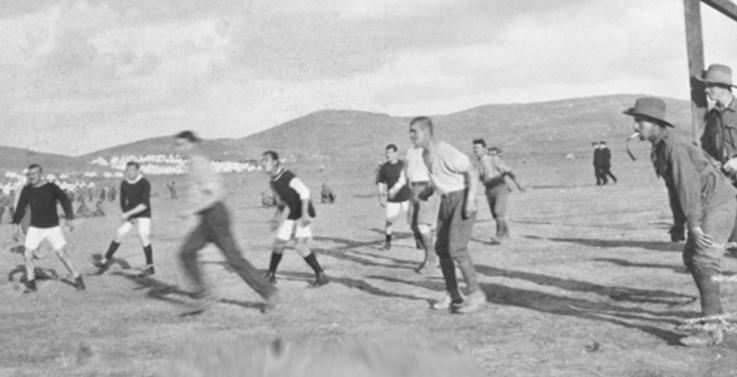 A team of researchers at Victoria University has found soccer was a major sport in the Victorian community and Australian armed forces during World War I.
Dr Ian Syson, who is leading the research project, said sporting contests between Australian troops and their allies blossomed in all theatres of war for purposes of morale, fitness and recreation - not to mention gambling.
"Australian rules, rugby and cricket were popular games," he said.
"But there is an argument to be made that soccer was even more prevalent; first because it was far easier to find an opponent from within the British troops, second because soccer was a much more popular game in pre-War Victoria than historians sometimes acknowledge, and third because soccer players tended to enlist with almost unanimous enthusiasm."
Soccer was enjoying a migrant-fuelled boom in Melbourne during the early 20th century, with records showing participation more than doubled between 1908 and 1912 and kept rising before the war.
The latest part of the team's painstaking research involved trawling through every soccer article in papers such as The Argus and The Winner from 1914 and 1915, extracting the names of players and their teams.
"We found that there were probably more than 800 soccer players in Victoria in the pre-war period with a total figure of 1000 players not out of the question," Dr Syson said.
This is a much larger number than is usually acknowledged in our sport histories. But researchers are also interested in what the sport meant to Anzacs who went on to define the Australian spirit, but who are rarely associated with the game.
"Records show soccer players not only enlisted in high numbers, many of them also paid the ultimate price, either dying in battle or later from their wounds," he said.
The records show that Victorian soccer players enlisted at a rate at least equal to that of the general population (40 per cent) but probably at twice that rate (around 80 per cent). Those enlisted Victorian soccer soldiers suffered a mortality rate (20 per cent), a good deal higher than the general morality rate across the Australian Imperial Forces (15 per cent).
"This raises a vital question for us as sports historians," Dr Syson said. "How did soccer seem to lose contact with the Anzac legend to which it had contributed so much?"
Dr Syson has authored a series of pieces for the Football Federation Victoria website on soccer history from this period.