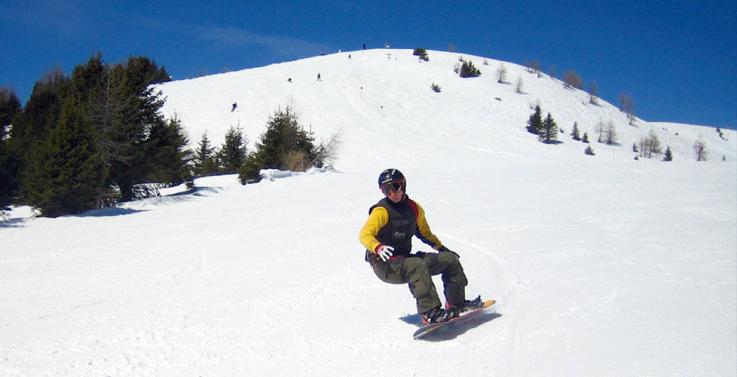 Researchers are testing a new concept that makes snowboarding easier for beginners.
Victoria University researcher Professor Damian Farrow and PhD student Georgia Giblin are testing boards with a new braking system. In the new design, boarders hold a leash with their trailing arm then pull the leash to drop a metal brake into the snow, creating friction and slowing them down.
"Snowboarding is typically a very difficult skill to learn, so many beginners spend a week on their backside getting very cold and sore before they can even link turns together, not to mention the possibility of broken bones," Professor Farrow said.
"It's hoped a design like this can change the way beginners learn to snowboard and make it easier."
Researchers are now recruiting beginner snowboarders - who've tried the sport no more than once before – for a test to compare results from training sessions with normal boards and the newly designed Boarder Kontrol boards.
Boarder Kontrol is a brand of Australian company Streetboardz International, which develops products to help board-riders improve their skills.
Professor Farrow said these boards were being tested because they represented a new concept in snowboarder training that could help lift participation rates for the sport.
During trials, researchers will track the progress of participants and look at how many times they fall, how fast they go, how long they spend sitting on their backside and how far they travel using GPS technology.
Professor Farrow from Victoria University's Institute of Sport, Exercise & Active Living is supervising the project with Ms Giblin running the testing.Thredbo Alpine Resort is providing lift access, instructors for the lessons and snowboard equipment to all participants free of charge.
To discuss your eligibility to volunteer for a trial this snow season contact Professor Farrow at (03) 9919 5001or [email protected]