Wednesday 3 September 2014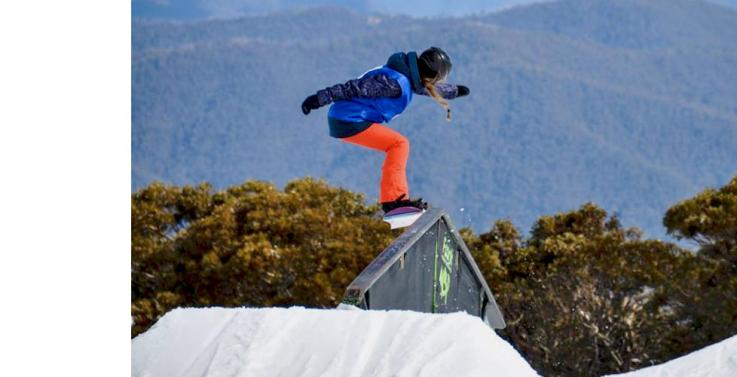 Victoria University students competed at the 2014 Snow Sports Australian University Championship at Mount Buller, Victoria, from 3-7 September.
Congratulations to two of our brightest sports stars, Lauren Staveley and Casey Wright, who both won gold medals.
Our student athletes competed in the following ski and snowboard events:
slopestyle (gold medal in snowboarding)
rails (bronze medal in snowboarding)
skier x
cross country (gold medal).
Snowboarding professional, Lauren Staveley
Lauren Staveley won:
gold in Snowboard Slopestyle
bronze in Snowboard Rails.
Lauren's runs had a mix of height, grace and technical difficulty. Her winning run was a crowd-pleaser.
She competes internationally in snowboarding and is a Mt Buller Ambassador. She has been a member of the national snowboarding team for the past four years. She has competed on the world circuit for three years.
Lauren is currently studying a double degree in Bachelor of Exercise Science and Human Movement / Bachelor of Psychological Studies.
Cross country champion, Casey Wright
Casey won gold in the Individual Cross Country. Casey established a firm lead from the beginning of the race and streaked ahead to win gold, 43 seconds clear of the other elite competitors.
She is a past VU Sport Scholarship holder with an impressive record. She won silver at the 2013 Australian University Snow Sports Championship in Cross Country held at Thredbo, NSW and was also part of the Australian Team (Uniroos) at the 2013 World University Winter Games in Trentino, Italy.
Casey's record:
qualified for 2015 Senior World Championships
2013 World Junior Champs - 50th, junior classic sprint
2013 Australian Cross Country Ski Championships: 2nd open women classic sprint
2013 Australian Snow Sports Championships, Cross Country Individual Women - Silver Medal
2013 World University Games, Italy - 54th open women 10km skiathlon, 59th open women 5km skate, 58th open women classic sprint
2013 Member of first Australian women's relay team at World Junior Championship event
2013 Victoria University Emerging Elite Scholarship recipient
2013 Victoria University Full Blue
Casey is currently studying Bachelor of Exercise Science and Human Movement.