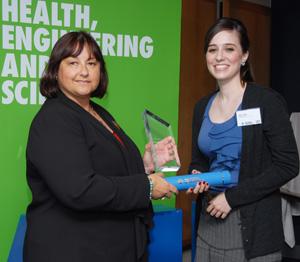 Bachelor of Health Science (Dermal Therapies) student, Sally Risby, was presented with the Executive Dean's Scholar Award at the Faculty of Health, Engineering and Science Awards Presentation, amongst other shining stars of fellow student award recipients.
This prestigious event, held at Victoria University City Flinders campus on 24 March, formally acknowledged 77 students from the Faculty for their outstanding academic achievements and performance in 2010.
Upon accepting the major award of the evening, Sally spoke about her experiences as a student in an industry that's considered young in its profession. Sally hopes she can make a significant contribution to the dermal therapies profession through her educational experiences gained at Victoria University.
Guest speaker for the evening was Victoria University's newly appointed Vice-Chancellor, Professor Peter Dawkins. Professor Dawkins provided an insightful and encouraging keynote address to a room full of outstanding students, their parents and friends, academic staff, industry partners, award donors and sponsors.
A key highlight of the evening was the presentation of A Lifetime Professional Achievement award, presented to Professor Frances Bromilow, a VU staff member. With more than 60 years of education, research and professional consultancy experience, his pioneering work in project management education has led to this deserving recognition.
We congratulate all the student recipients of the awards, with a special mention to all the staff in the Faculty of Health, Engineering and Science who were involved with the students in the delivery of their learning needs and support.
You can view the list of students and their awards