Wednesday 16 November 2011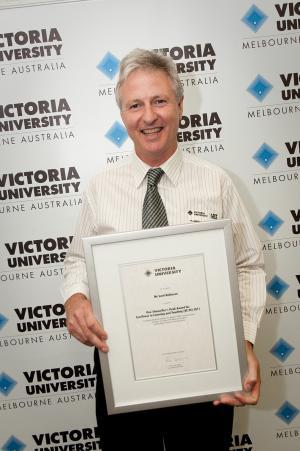 Scott Robinson's computer-based training course is transforming how the University's plumbing apprentices learn.
A plumbing teacher since 1999, Mr Robinson received the peak award in the vocational and further education category for adapting an e-learning WebCT course that allows students to progress through their Certificate III in Plumbing at their own rate and enter the workforce sooner.
Mr Robinson began to develop the program in 2009 with assistance from the University's online learning system designers. It delivers theoretical information, assesses competencies, and records results so individual student progress is tracked in detail. It also lets students have on-line conversations with their classmates and teachers.
The program has allowed VU to be the first training organisation in the state to deliver simultaneous streams of six plumbing specialities - water, sanitary, drainage, gas, roofing and mechanical.
The program was rolled out in 2010 with great success, allowing hundreds of plumbing students to complete the theory components of their qualification earlier than would normally be possible.
In September, Skills Victoria also recognised the value of Mr Robinson's work, awarding him $10,000 as Trainer of the Year in the 2011 Victorian Training Awards.