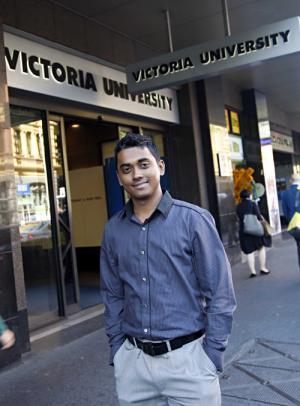 Architectural engineering student Roneel Deo is one of 32 Victoria University students who have been awarded High Achievement Scholarships as an incentive to continue their high marks and perhaps progress to further study.
The 19-year-old grew up on a sugar cane farm in Fiji and has always had a passion for maths and physics.
In high school he realised he had a talent for engineering when he designed a treadmill to generate electricity. "It won the prize for best project and that's when I thought about studying engineering," he said.
After matriculating last year with the second-highest marks in his homeland, Roneel was offered a scholarship by AusAID to study in Australia.
"I looked through the list of courses the scholarship could be used for, and the one at VU for architectural engineering immediately caught my eye. It's the only course of its kind in Victoria, and I knew straight way that's what I wanted to do."
Roneel, who lives in Footscray, has just completed the first year of his course at the Footscray Park Campus. He says that between them the two scholarships have made it possible for him to study without having to work part-time.
"It's made my life much easier and it also means I don't have to be a burden on my family," he said.
The High Achievement Scholarships, launched by Vice-Chancellor Professor Peter Dawkins this week, provide students who maintain a grade point average of distinction or higher with $1000 each semester plus a $500 annual book voucher.
Scholarship winners are required to complete at least one leadership task each year and are provided with an academic mentor.
"I congratulate all 32 scholarship winners," Professor Dawkins said. "These scholarships are recognition of the excellent work that our best students are achieving.
"They are an incentive for the winners to continue to study hard because they become ineligible if their grades drop below the distinction level. We know they have the capacity to continue to do well and I hope that some will consider progressing to postgraduate study when they finish their Bachelor's degrees."
Roneel is available for interview: 0405 249 965
A jpeg photograph is also available
Media inquiries: Christine White, General Manager, Communications
Marketing and Communications Department, Victoria University
Ph: (03) 9919 4322; mobile: 0434602884; email: [email protected]