Thursday 19 December 2013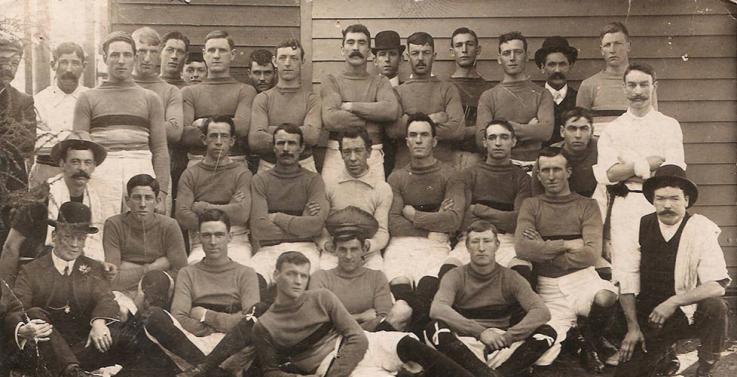 Students are experiencing the thrill of hands-on historical research with the Sport Australia Hall of Fame, Western Bulldogs and more.
Participants in the College of Sport and Exercise Science summer school are exploring various aspects of sport history with special access to rare objects and archives, and research support from Victoria University staff.
Sport historian and program manager, Dr Rob Hess, said students were excited to be working so closely with elite clubs in building the history and heritage of Australian sport.
The summer school extends an existing component in three core units, where more than 500 undergraduate students each year tour the Western Bulldog Football Club's training facilities, museum and archives before each being assigned the name of a club life member, particular month in history or some other heritage-related topic to research.
During summer school, a select group of these students are then given exclusive behind-the-scenes access to the club's treasure trove of objects and artefacts in order conduct detailed investigations.
"These objects might include a player's premiership medallion from 1919, an iconic team photograph from the museum gallery or an obscure cup presented to the club for a community singing competition in 1935," Dr Hess said.
"Of course anything to do the with the 1954 VFL premiership is popular, but we try and direct students to the less well known aspects of the club's history."
Dr Hess said students - who present their findings to academic staff and club personnel in the Victoria University Whitten Oval boardroom at the program's end - produced some fascinating sporting history.
"Students find interesting snippets of history about the social side of the club, the scandals or controversies that often erupted, and the amazing rivalries that particular players or teams had with other clubs," Dr Hess said.
"We collect all this miscellaneous research and add it to a database for the club: the club appreciates the knowledge transfer because it helps them build their history and the students love it because it's such a real-life learning experience for them."
Dr Hess said summer school students got a deeper understanding of the research process and a taste of the postgraduate research experience. Now that the summer school has expanded to include the Sport Australia Hall of Fame - involving research at the National Sports Museum - that opportunity is even greater.
One big name celebrity to complete the program was Hawthorn premiership ruckman David Hale, who was given permission to research Hawthorn Football Club's history as part of his an undergraduate degree at Victoria University.
Students from the program are displaying some of their curatorial skills in a historical display about the Bulldogs, located in a cabinet near the entrance to Victoria University's Footscray Park Library.
Image courtesy of the Bulldogs Museum