Wednesday 24 September 2014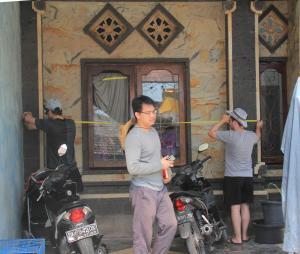 Engineering students have toured Bali researching appropriate ways to build sustainable housing for the island's local population.
With support from Victoria University International, Adjunct Fellow Sam Kashuk took 11 fourth year Engineering students on the study trip around Bali to investigate how to construct or upgrade housing to be more energy efficient.
"Bali is a well-known destination for tourists but it's important to remember the needs of the local people who live there," Mr Kashuk said.
"They require houses that are comfortable in the hot and humid climate, economically viable and constructed from readily available local materials."
Students worked in small teams to survey and measure the various types of housing they'd identified. They also toured a wide range of buildings and construction workshops to ascertain the availability of local building materials.
Students then used this information to estimate the energy performance of these buildings, and suggest methods of retrofitting them to improve that performance.
On this same program last year students surveyed housing in Timor-Leste and provided their findings and recommendations to the local government there. Next year's trip is being planned for China.
Mr Kashuk said the fieldwork component of the final year research project gave students the chance to use their knowledge in an applied research setting and to work collaboratively towards real solutions.
"It's a great experience for students and really brings their final year engineering project to life," he said.
These students' projects results will be presented in 2014 Final Year Project Conference for the College of Engineering and Science.