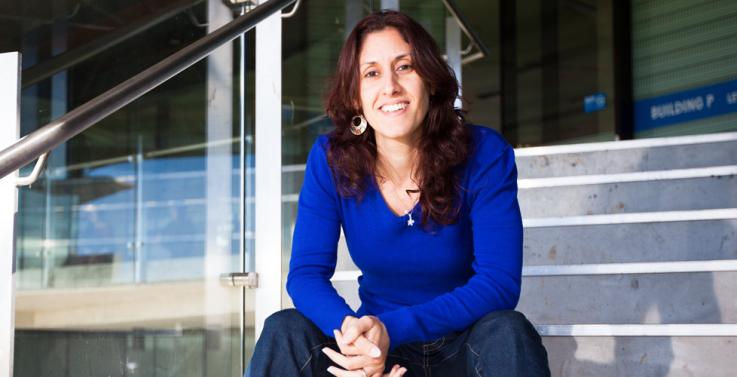 The newest researcher at the Institute for Sport, Exercise & Active Living knows she's come to the right place to research active living.
Six months into her fellowship at Victoria University Dr Pazit Levinger is thoroughly enjoying the opportunity to work with some of the best sport science researchers and facilities around.
"With ISEAL's resources and personnel there are opportunities here for really good collaborations that simply don't exist at many universities," she says. "As a researcher I enjoy ticking the boxes for each goal I achieve and here I think I can achieve a lot of them."
Working in collaboration with Professor Rezaul Begg and Associate Professor Alan Hayes, Dr Levinger is investigating links between Vitamin D and bone and muscle function, with the aim of targeting treatment more effectively for those with knee arthritis. This project and her fellowship are part of the Commonwealth-funded Collaborative Research Network awarded to Victoria University.
She says it's an important area because the poor balance and weak muscles associated with knee arthritis make elderly people with the condition twice as likely to suffer falls.
Levinger came to Victoria University in February but it was 10 years earlier that she arrived in Australia from Israel to study her PhD. She has since specialised in gait measurement and falls and balance assessments. During her five years at La Trobe University – where she remains an Honorary Research Fellow – she published in leading academic journals including Arthritis and Rheumatism and the Arthritis Care and Research. It's a research journey she has so far found fulfilling.
"I love being a researcher because it allows me to determine my own pace and set my own goals – as a driven and independent person that works well for me," she says.
And with each study you learn more and grow as a researcher, she says.
"I remember after my PhD thinking that I wish I'd done some things differently, then my post doctoral research was much better but I found aspects of that to improve on to, and so it goes."
Levinger says she has also come a long way in becoming an Australian.
"I have to admit that I don't eat Vegemite but at least my kids do," she says. "And unlike when we first arrived I now get the humour in Aussie films like The Castle."