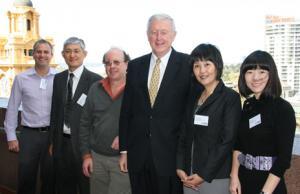 Efforts by industrialised nations to shift to clean technology were in the spotlight at an international conference at Victoria University last week.
Interest was focused on China, whose reliance on fossil fuels is well documented as it cements its role as the world's leading production house.
Research director of China's Energy Research Institute Dr Jiang Kejun told the conference that his country would experiment with a variety of methods to curb carbon emissions during pilot programs over the next few years.
He told The Age last week that the Australian scheme of a fixed carbon price leading to a cap and trade program was one model his country would use in regional pilots.
The rapid Chinese development of clean technology accompanying fossil-fuel based production was a strong feature of the conference. Manufacturing of solar panels, for example, is now a major export industry in China. Dr Jiang said alongside major industrial-scale production, there was also a commitment to small-scale projects. As an example, he highlighted a stand-alone small wind turbine-solar panel "package" designed for the Third World that is being installed in African villages.
In contrast, many speakers said Australian efforts to develop these industries were frustrated by the lack of investment, itself a product of uncertainty in the financial outlook.
Kane Thornton from the Clean Energy Council told the conference that despite Australia possessing all the right conditions, investment in clean technologies was still sub-optimal: "It's bloody hot, bloody windy, the seas are rough and we have hot rocks not far below the surface of the ground, but not a lot is happening," he said.
Many speakers hoped the introduction of the carbon pricing legislation into the federal Parliament this week would bring greater confidence in the economic and regulatory settings.
Director of the Centre for Strategic Economic Studies, Professor Peter Sheehan, told the conference that one of the greatest challenges facing China was how to make the shift to clean energy during such a rapid and massive industrial boom.
"China is a victim of its own success," he said. "However good its technology and its policies, China will not achieve its goals for a low-carbon economy and for the welfare of its people unless it makes real progress on the industrial structure issue."
There were huge constraints, for example, on growing much-needed service industries while economic output was dependent on the manufacture of goods.
Presentations - Day 1: 'The closing window:Implementing effective climate policies'
Global Climate Action
National and International Context
Prof Peter Sheehan, Victoria University
Containing Global Warming: A View from China

Toward China's Low Carbon Society

Dr Jiang Kejun, Energy Research Institute, NDRC China
View from the US (background)
Mr James Goldstene by video link
California Air Resources Board
The European Experience with Climate Policies
Dr Stefan Speck, European Environmental Agency
South Korea's Low Carbon & Green Growth Strategy
Dr Lee Sang-Hun, Hanshin University, South Korea
Australia's Climate Package
Australia's Clean Energy Future
Dr Steven Kennedy, Department of Climate Change & Energy Efficiency
Designing Complementary Policies for a Low Carbon Economy
Mr Erwin Jackson, The Climate Institute
The Political Reality: Implementation Issues and Constraints
The Impact of Emission Prices & Renewable Policies
Hon Rob Jolly, Carbon Market Economics
Effectiveness of the Carbon Pricing Policy
Dr Frank Jotzo, Australian National University
The Clean Energy Bills: Good Policy Intent, Bad Formulation and Ugly Implementation
Mr Michael Hitchens, Australian Industry Greenhouse Network
Green Growth: Building Skills, Creating Jobs and Strengthening Regions
Mr Tony Maher,
Construction, Forestry, Mining & Energy Union
The Shift to Renewables : Issues & Barriers
Mr Kane Thornton, The Clean Energy Council
Getting the Conditions for Investment Right
Mr Nathan Fabian
Investor Group on Climate Change
Making the Carbon Finance Corporation work
Mr Bruce Mountain, Carbon Market Economics
The Closing Window
The Risk Perception Paradox: the Public, the Policy and the Media
Prof Roger Jones, Victoria University & Mr Michael Bachelard, The Sunday Age
Presentations - Day 2: 'The Clean Technology Revolution, Australia & China - Workshop'
Low Carbon Development

China-Australia Energy, Resources & Cleantech Cooperation
Mr Drew Clarke, Secretary , Australian Department of Resources, Energy & Tourism
Adopting a Low Carbon Pattern of Development in China
Dr Jiang Kejun, Energy Research Institute, National Development and Reform Commission, China
Clean Energy and Investment in China: an Australian Perspective
Hon Richard Alston, Victorian Director, Australia China Business Council
The Clean Technology Revolution, China and Australia
Roundtable 1: Adjusting The Structure of Development
'Rebalancing' the Structure of the Economy (PDF, 197 KB)
Prof Peter Sheehan, Victoria University
Adjusting the Energy Mix
Mr Bruce Mountain, Carbon Market Economics
Low Carbon Cities
Dr Zhuang Xing & Dr Jiang Kejun, ERI, NDRC
Green Economy Pathways
Dr David Ness, Ecological Development Union International
Roundtable II:Clean Energy, Technologies and Innovation in China and the Implications for Australia
Building Design and Innovation in a Low Carbon Future
Mr Tai Hollingsbee, GHD
Opportunities for Reducing Transport Emissions
Dr Alex English, Victoria University
The Rise of the Electric Car
Dr Zhuang Xing, ERI, NDRC
China-Australia New Energy Vehicle Alliance
Dr Marcel Bick, CSIRO
Financing Commercialization of Clean Technology
Mr Ivor Frischknecht, Starfish Ventures